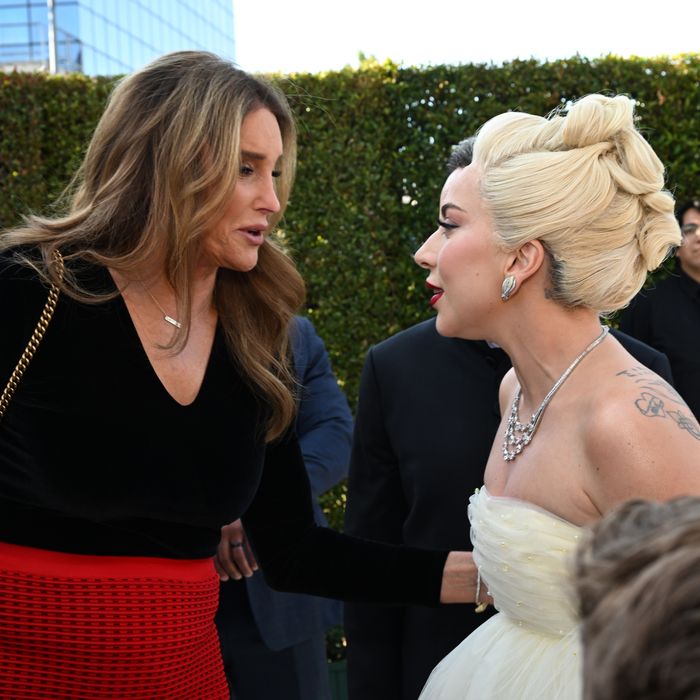 Photo: Getty Images for Elton John AIDS
Mariah Carey's infamous "I don't know her" just got a 2022 update thanks to Lady Gaga's incredibly awkward interaction with Caitlyn Jenner. It all went down at Elton John's Oscar viewing party on Sunday, which Gaga attended before making a quick change and heading over to the Oscars. The two crossed paths outside the event, and it definitely does not seem like Gaga was particularly pleased to see the Olympian.
In the video, Jenner is seen approaching Gaga and asking her if she was still in Malibu. When Gaga answered in the affirmative, Jenner continued, "I haven't seen you at the Starbucks in a while!" Gaga shrugged, "Well, I've switched baristas," before signaling an end to the conversation and moving on. The two exchanged police goodbyes — a "good seeing you" from Jenner and a "you too" from Gaga — but the awkwardness remains in all of us now.
Leave it to Lady Gaga to turn a mundane thought like "I've switched baristas" into a very precise and devastating burn. Imagine having Gaga tell you that she's "switched baristas," and using this as an excuse as to why she does not want to associate with you. I would simply never get coffee again. But Jenner doesn't seem bothered. In fact, on Monday, she applauded Gaga on Twitter for her support of Liza Minelli, directly tagging her in a retweet of a People story calling her "an absolute class act." She continued, "This moment truly brought tears to my eyes to see you presenting with [Liza Minelli]." (A nice sentiment, if only Jenner hadn't tagged the parody account @LiZaOutlives.) Clearly, she thinks Gaga really did just switch baristas.
What makes the interaction even more interesting is that Jenner and Gaga have been friendly in the past. Gaga celebrated Jenner's Vanity Fair cover when the former reality star came out in 2015, and the two even posed together the following year at 2016 Vanity Fair Oscar Party. However, since then Jenner has emerged as a right wing pundit in the LGBTQIA space. She recently spoke out against trans women competing in women and girls' sports, and even ran for the governor's seat in California as a Republican. Needless to say, her political views have diverged significantly from Gaga's, which could explain the brush off. Regardless of the reason, it looks like there won't be any coffee dates between Gaga and Jenner in the future.